Requirements for Membership
To become a New Ventures Band member you need:
• A desire to learn a musical instrument and perform with the band.
• A musical instrument — rented or owned.
• A commitment to attending a weekly rehearsal held at 397 Ontario Street, Cobourg.
• Time for some regular home practice.
• Your membership investment as noted below.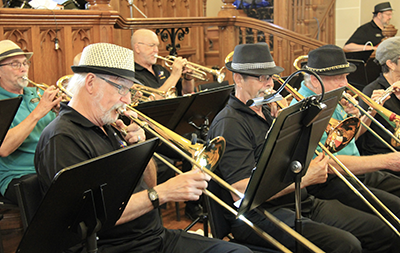 Learn to Play:
Flute
Oboe
Clarinet, Bass Clarinet
Bassoon
Saxophone (Alto, Tenor & Baritone)
Trumpet
French Horn
Trombone
Baritone/Euphonium Horn
Tuba
Electric String Bass
Percussion: drum kit, auxiliary, timpani and keyboard percussion
* the band provides some instruments
Make New Friends
As of September 2019, the bands (Intro, Mezzo and Avanti) have over 90 members.
If you have ever wanted to learn to read and play music, contact us. It's never too late!
ALL band members are welcome at our post-rehearsal socials, usually at a local pub.
Your Investment
Rental or purchase of an instrument.
Method book (about $10) for skill development.
Annual dues – $150 (May be subject to change annually).
Band uniform shirt for performances; ($35 – $40).
Name badge (about $10) worn at performances and rehearsals.
Black pants, black socks and black shoes for all performances.
The "Intro" Band
(beginner)
Beginner Band
rehearsals
are held on Thursday evenings
from 6:00 p.m. to 7:00 p.m.
The "Mezzo" Band
(intermediate)
Intermediate Band
rehearsals
are held on Thursday evenings
from 7:00 p.m. to 9:00 p.m.
The "Avanti" Band
(advanced)
Avanti Band
rehearsals
are held on Wednesday evenings
from 7:15 p.m. to 9:15 p.m.
The "Big"
Band
(special interest)
Big (formerly "swing") Band
rehearsals
are held on Friday
evenings
from 5:00 p.m. to 7:00 p.m.
The "Piccola" Band
(a "little" big band)
Piccola Band
rehearsals
are held as required for daytime performances in the community.