About Us
Founded in Cobourg, Ontario in early 2014, the Northumberland New Ventures Band is a community band comprised of adults learning to play a musical instrument in a fun, no pressure, social group setting. Many members had no prior musical experience while some had played an instrument in high school.
The Band is a not-for-profit registered Charitable Organization, registration number 83167 3389 RR001.
The band plays many kinds of music from classic to pop, and is branching out into jazz, swing, blues and other genres as driven by the interests and abilities of its members.
The New Ventures Band music season is from September through June with weekly Wednesday and Thursday  evening rehearsals held at the Concert Band of Cobourg rehearsal hall at 612 D'Arcy Street in Cobourg:
Intro

(beginner) Band sessions are held on Wednesday evenings from 6 p.m. to 7 p.m.

Mezzo

(Intermediate) Band rehearsals are on Thursday 

evenings from 7:00 p.m. to 9:00 p.m.

Avanti Band (

experienced) rehearsals are on Wednesday evenings from 7:15 p.m. to 9:15 p.m. 
Swing/Jazz Band: as of September 2017, band members who are interested in the swing/jazz genres are welcome to join this special interest group under the guidance of music director David Marshall.  Swing Band rehearsals are on Thursday evenings from 5:30 p.m. – 7 p.m.

ALL band members are welcome at our post-rehearsal socials, usually at a local pub.
Our Music Director:
Our award winning founder and music director, Glenn Bailey, comes to us with over 40 years of experience in teaching instrumental music to youth of all ages as well as adults. His experience has taken him to many communities in southern Ontario including; Guelph, Brantford, Kitchener-Waterloo, Toronto, Cobourg and Peterborough where he has enjoyed success at every turn. Following his retirement Glenn settled in Cobourg with his wife Nancy. They have 3 grown daughters and 5 grandchildren living here and in the Ottawa area.
In addition to teaching the Northumberland New Ventures Band, Glenn plays trombone with the Concert Band of Cobourg and the Northumberland Orchestra and Choir. His passion for teaching music and his good humour, make it an easy environment for all to learn and grow through music and have fun doing it.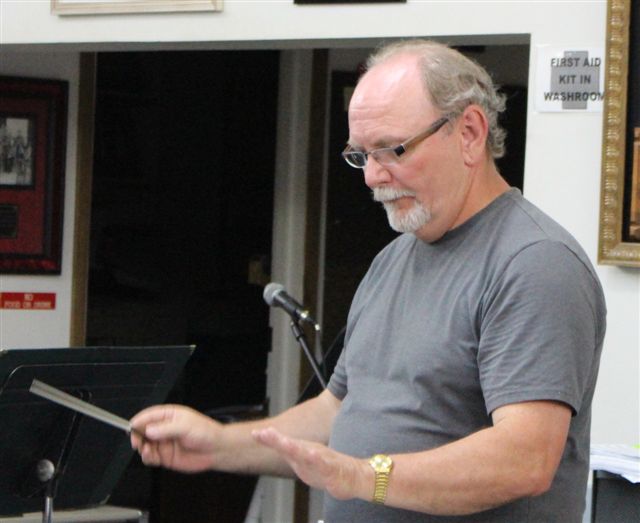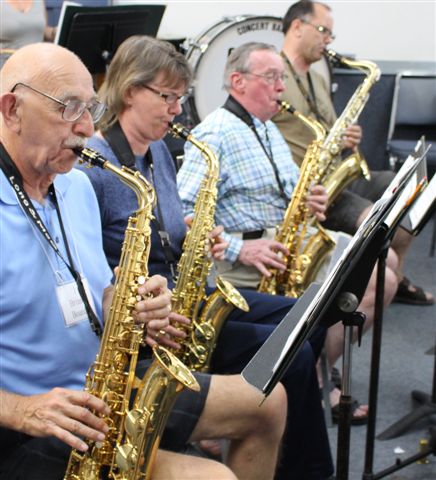 Band History
Glenn Bailey, our Music Director, initially proposed the formation of the band at the Cobourg Mayor's New Year's Day Levee on January 1, 2014. Glenn announced the formation of the band and called for all persons in the audience who ever had an urge to play music to attend a meeting two weeks hence to work out the details.
The response was overwhelming as over forty people turned up to hear Concert Band members demonstrate and talk about their instruments. By the end of the evening, Glenn had all the information he needed to create a new band aptly named the Northumberland New Ventures Band.
As of August 2018, the bands (Intro, Mezzo and Avanti) have over 90 members.
Our Future
As the New Ventures Band gained a second year of experience with more advanced skills it became clear that a new intake group, with absolutely no previous music background, was needed in order to maintain the band's long term viability.
In June 2015 the Band held an open house to invite new and experienced musicians to join the organization. The recruitment drive was successful. At the start of the 2015/16 season the Northumberland New Ventures Intro Band started with eighteen new musicians and another ten experienced musicians joined the original band.
We repeated the open house evening again in June of 2016 and 2017. As the band grew, so did Word of Mouth as folks began to talk about the New Ventures. As of November 2017, we have over 90 musicians in the New Ventures Band.
If you have evere wanted to learn to read and play music, contact us. It is never too late!