About Northumberland New Ventures Band
Rehearsal Schedule:
Intro (beginner) Band – Thursday 6:00 p.m. to 7:00 p.m.
Mezzo (intermediate) Band – Thursday 7:30 p.m. to 9 p.m.
Avanti Band (advanced) – Wednesday 7:00 p.m. to 9:00 p.m.
Big Band – Friday 1:30 p.m. to 3:00 p.m.
---
Season: September to June – no rehearsals or performances during July and August.
---
Our Music: The Bands play many kinds of music, from classic to pop, and have branched out into jazz, swing, blues, and other genres as driven by the interests and abilities of its members.
Our Membership: Our members are all adults learning to play a musical instrument in a fun, no pressure, social group setting. Most of our members have had no musical experience or may have played many years ago in high school.
Our Bands: Our Intro Band welcomes anyone who is interested in learning to play an instrument, whether they have played before, or have never even held an instrument. We are always in search of new players and we start from the beginning every Fall. Mezzo and Avanti Bands complete the trio of our main bands, and offer the opportunities for Intro Band members to progress, once they are comfortable doing so. Our Big Band focuses on the swing/jazz genres and offers opportunities for more accomplished players to solo with that group. Members must be in one of the three main groups in order to play in the Big Band.
---
Our History: Northumberland New Ventures Band (NNVB) began as one community band, founded in Cobourg, Ontario. It was initially proposed at the Cobourg Mayor's New Year's Day Levee on January 1, 2014 by our Music Director, Glenn Bailey. Glenn announced the formation of the band and invited anyone in the audience who had an urge to play an instrument to attend a meeting two weeks hence. The response was overwhelming! Over forty people turned up to hear Concert Band members demonstrate and talk about their instruments. By the end of the evening, Glenn had all the information he needed to create a new band, aptly named the Northumberland New Ventures Band.
Our Charitable Status: The Band is a not-for-profit registered Charitable Organization, registration number 83167 3389 RR001. Since 2014, NNVB has evolved to become three main bands (Intro, Mezzo and Avanti) catering to all levels of experience. In addition, we have a number of specialty bands and smaller groups, borne of our need to find creative ways to continue playing during COVID-19.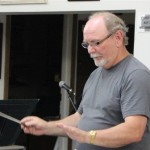 Our award-winning founder, Glenn Bailey, brought over 40 years of experience in teaching instrumental music to adults, and youth of all ages when he founded Northumberland New Ventures Band. He has shared his experience across many communities in southern Ontario including Guelph, Brantford, Kitchener-Waterloo, Toronto, Cobourg, and Peterborough, enjoying success at every turn. After 7 years of serving as our Principal Music Director, Glenn has decided to retire as of June 2022 and pass the torch so that he can pursue other musical interests, such as arranging music. We look forward to continuing our association with Glenn in the years to come.
Thank you Glenn for sharing your passion for teaching music and your good humour which created such a fun environment for all of us to learn, grow and build our skills through music. We wish you all the best in your new musical endeavours.
---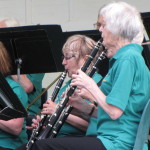 Our Future
Every year New Ventures Band looks forward to welcoming a new group of beginners with no previous music background. This is very important for maintaining the band's long-term viability and fulfilling our mandate of providing provide music education, training and performance opportunities for adults of any age and at any stage of musical experience.
We hold an Open House in September every year during the evening, soon after Labour Day to provide information and invite potential new members to join us. If you have ever thought of learning to play a music instrument, be it woodwind, brass, electric bass, percussion and more, please get in touch. It is never too late. Contact us at info@newventuresband.com, or plan to come to our Open House in September. Watch for info on the website about date and time.
---
Our Social Times: ALL band members are welcome at our post-rehearsal socials, usually at a local pub. In addition we have our Holiday Season gettogether in December.
Our Fundraising: We have an active fundraising program which is lots of fun and includes several annual Events, such as our Yard Sale, Bottle Drive, and Empire Cheese sale near Christmas. We also hold two annual concerts – Celebrate the Season in December, and Venturing Forth in June. The efforts of the Fundraising Team and the inspiring support of our band members helps to keep our member expenses low.
---
---
Need some help to decide which instrument to learn to play? Watch this video.
---