A FUN COMMUNITY OF ENTHUSIASTIC MUSICIANS!
Learn from experienced teachers
It is never too late to get started!
Many thanks to The Concert Band of Cobourg for its inspiration and ongoing support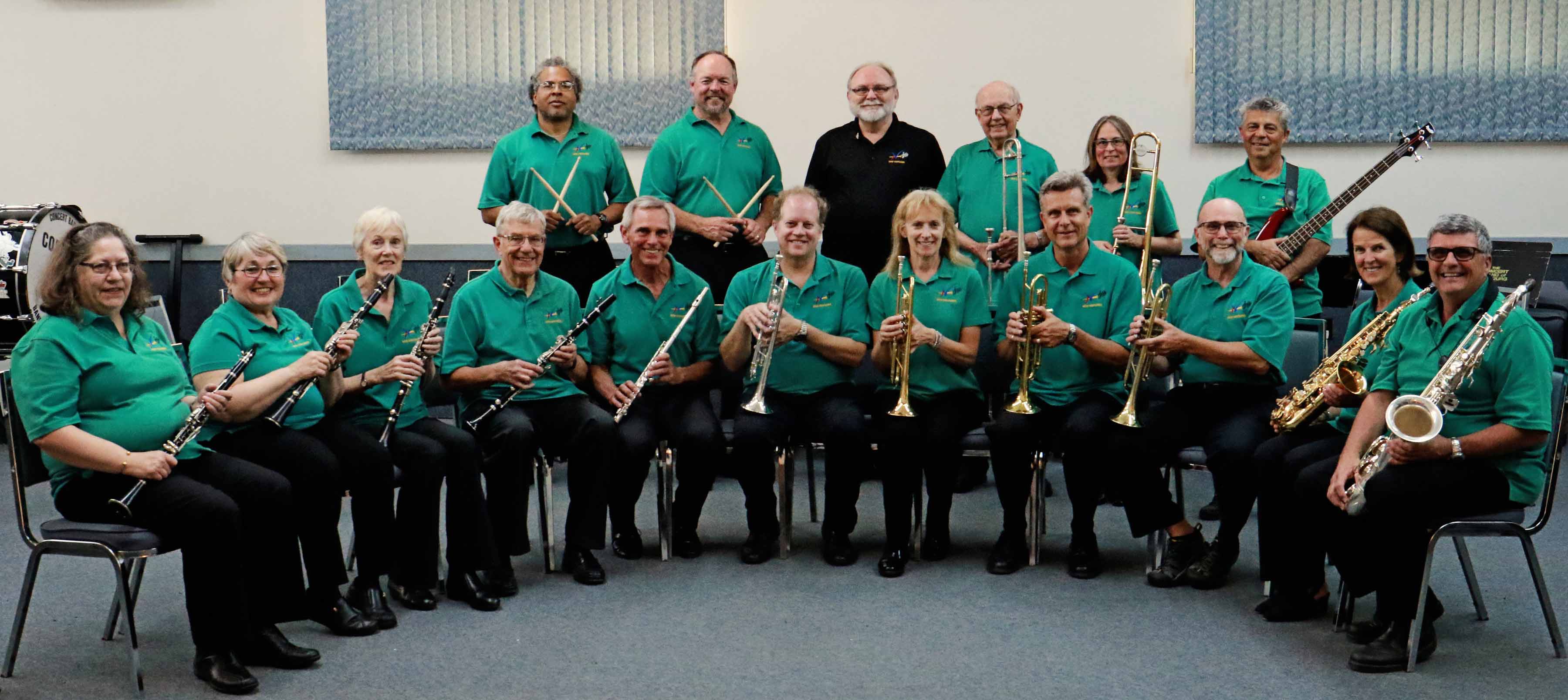 Who We Are:
The Northumberland New Ventures Band is a local group dedicated to providing a music education and performance opportunities to adults in a congenial and fun setting. The band is intended for those who have no music experience at all (a majority of us), those who played an instrument many years ago in school but haven't played since and those who just want to get back into music after some years away from it. Many of our musicians started to learn after they had retired!
The instruments we learn are basically traditional band ones: Flute, Oboe, Clarinet, Saxophone, Bassoon, Trumpet, French Horn, Trombone, Baritone Horn, Tuba, Electric String Bass and all forms of percussion.
What We Do
The Intro band (for beginners) meets from September through June every Wednesday night at the Concert Band of Cobourg rehearsal hall (612 D'Arcy St.) to receive instruction in playing the instruments and reading music, all in a low pressure group setting. The lessons follow a graduated series of music books, but are greatly enriched by learning to sight read and play from sheet music selected by our Music Director.
The Band's initial rehearsal was in February 2014 and its debut performance was opening for the Concert Band of Cobourg at the first concert of the 2014 summer series in Victoria Park. A small ensemble from the Band under Music Director Bailey made a presentation to the entire student body and staff at Burnham Street Public School in October 2014, and in December 2014 the Band performed a Christmas-themed concert at the Regency Manor Retirement and Long-Term Care Home in Port Hope. In June 2015 the band performed at the Rosewood Estates Retirement Home in Cobourg.
We have regular concerts at Christmas and at the end of season (June) with occasional presentations to local organisations and retirement homes throughout the year.
As of August 2018 the Northumberland New Ventures Band has grown to about 100 members across three bands, rehearsing from September to June:
Intro Band (beginner) sessions are Wednesday evenings 6 p.m. to 7 p.m.

Mezzo Band (intermediate) rehearsals are Thursday evenings 7 p.m. to 9 p.m.

Avanti Band (experienced) rehearsals are Wednesday evenings from 7:15 p.m. to 9:15 p.m.
[/et_pb_text][/et_pb_column][/et_pb_row][/et_pb_section][et_pb_section fullwidth="off" specialty="off" background_color="#ffffff" inner_shadow="off" parallax="off"][et_pb_row][et_pb_column type="4_4″][et_pb_cta admin_label="Call To Action" title="We Want to Hear From You" use_background_color="on" background_color="#7EBEC5″ background_layout="light" text_orientation="center" button_url="https://www.newventuresband.com/about-us/contact-us/" button_text="Contact Us!"]
Don't be shy, beginners welcome!